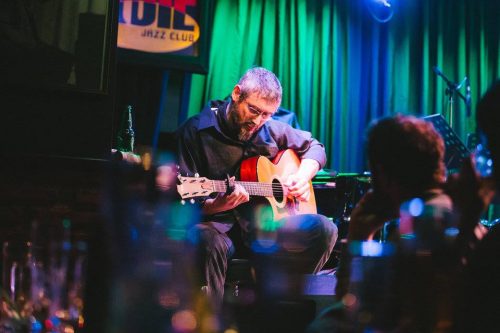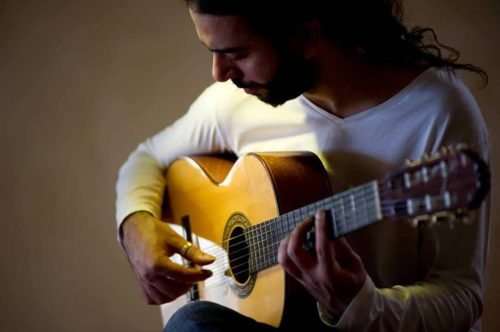 Apostolos Leventopoulos – acoustic and nylon string guitar
Special Guest:
Yiorgos Limakis – classical and acoustic guitar

Acoustic guitar has been a long time love affair for Apostolos, featured often in his bands and music. The Acoustic Project is a presentation of the "Songs for Acoustic Guitar" album, released on February 2022, through a series of collaborations with selected Greek guitarists.

It features music inspired and composed in the stillness of the countryside and the montane forests of the Olympus national park area, where Apostolos spent most of the covid quarantines..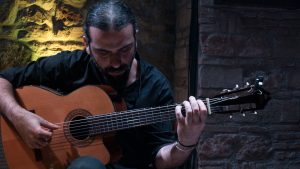 Yiorgos Limakis is one of the most active acoustic guitarists and session musicians in Greece. He holds a classical guitar and composition Bachelor's and Master's Degree from Middlesex University, and has decades of experience as a performing musician in various genres of music. He has collaborated with musicians such as Giotis Kiourtzoglou, Eleni Karaindrou, David Lynch, Stavros Xarchakos, Haig Yazdjian, and many others, and has an extensive discography both as a session player and as a leader/group member.
With exceptional clarity of tone and a crisp, mellifluous touch, Leventopoulos reveals a refined sense of songcraft and a certain bluesy undercurrent in his phrasing, even in this intimate context. There's a pastoral sensibility throughout Songs for Acoustic Guitar, from the bright and flowing waltz "Wandering Thoughts" to the minor-key musings of "The River" and "Forest Breeze" and the balladic tranquility of "Sunny Afternoon."
DAVID ADLER (JazzTimes, The Village Voice, Down Beat)

"Songs for Acoustic Guitar", is a collection of music that evokes memories of songs, despite being instrumental music. Songs with lyrical and minimalistic sounds, simplicity and silence. This is the beauty, the substance of the sound of acoustic guitar.
ILAN SOLOMON

Leventopoulos presents an enchanting, almost dreamy album, with eight moving compositions that take the listener on a journey with their lyricism. A music beyond categorization, full of melodies, images and emotions, an album that is to be heard from beginning to end. Forty minutes of enjoyable and elegantly beautiful music, that seems to spring out of nature scenery, near and far, captivating and pristine.
MANTHOS GIOURTZOGLOU
In "Songs for Acoustic Guitar" you won't only hear jazz, but also blues, folk, ballads and contemporary acoustic music. Melodies joyous or not, clearly imprinted with graciousness and passion, sometimes moderate, sometimes excessive.
FONTAS TROUSAS